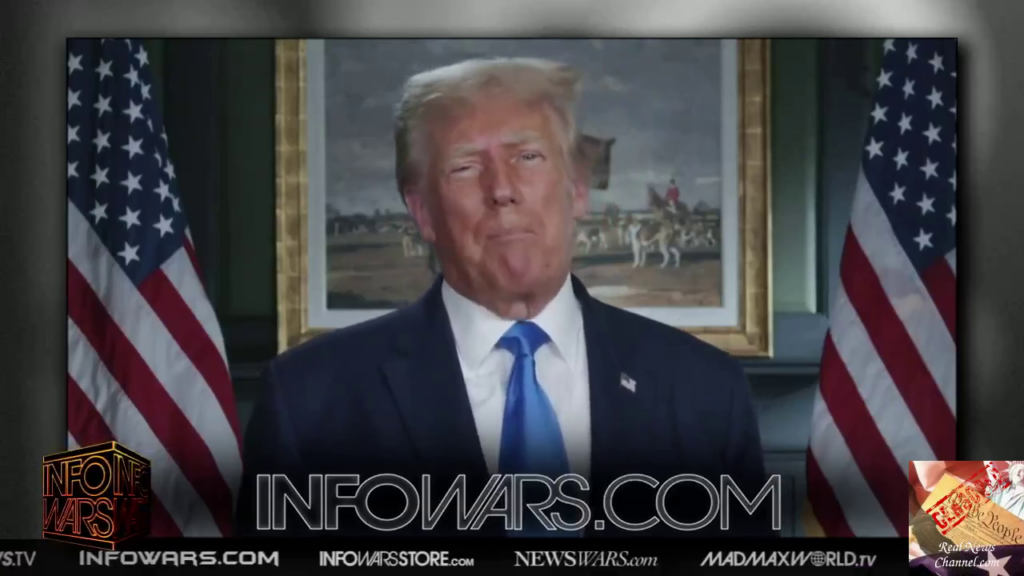 RealNewsChannel.com
On August 18th Alex Jones opened Pandora's Box. The sitting President, who is jailing his political opponents and following the New World Order plan to the tee is once again rolling out COVID lock downs according to whistleblowers that contacted Alex Jones. Following Alex's revelation to the public, the rollout clumsily began. The targeted rollout begins mid September. Please inform those you love that tyranny is on the march. Alex Jones breaks down the reality of the Deep State pushing the world into a new global war.+ More!
Extended Report:
Evidence of Widespread Election Fraud Reports;
Mike Lindell's latest election fraud video has all of the election fraud evidence in a concise, power packed video. Share this video are and wide. Support Mike's work at Mypillow.com and use Promo Code ALEX and help support the Infowar.
Mike Lindell's Bombshell Unmasked Video Proves That Joe Biden Is An Illegitimate POTUS
Greg Reese Reports;
The recent fires in California, Australia, and now Hawaii are unlike anything we've ever seen before. They are being called forest fires and wildfires, but they are clearly something very different. These fires are burning homes into a white powdery ash footprint while often leaving the surrounding green trees and shrubs practically untouched.
In extreme cases, forest fires can reach temperatures of up to 1500 degrees Fahrenheit, and the melting point of aluminum is 1220 degrees Fahrenheit. So it is possible for an extreme forest fire to melt aluminum. But there are cars with puddles of melted aluminum that were clearly not in the wildfire area. And melted glass, which has a melting point of around 2500 degrees Fahrenheit. These are unexplained anomalies. In the California fires of 2018, cars were randomly bursting into flames on the freeway with no surrounding fires. We've seen these same anomalies in New York City on September 11th, 2001. Cars completely burned out with no explanation.
In Maui, these unnatural fires spared the homes of the rich while burning the native homes of the working class. With precision, these fires destroyed the most envied, high-valued area of Maui.
For decades, Directed Energy Weapons have been classified. But they have been on the public record for several years. Directed Energy Weapons, or DEWs, have the ability to burn homes with this sort of precision. But in order to be this precise, the area would have to be mapped out. In January of this year, green lasers were seen over Hawaii which could best be described as a geospatial array for mapping terrain.
We have seen that among the ashy ruins, there are blue-colored objects that have somehow survived the devastation. Blue cars. Blue umbrellas. A blue boat. Blue planters.
Videos online are going viral that show how lasers can easily burn through certain colored objects, but objects that are colored blue remain unharmed.
Directed Energy Weapons include lasers, millimeter wave, and microwave. They are all based on light frequencies. And different wavelengths of light affect colors differently. For example, in laser tattoo removal, different wavelengths are used for removing different colors. And this is because color is a quality of light, and each color has its own frequency. Interestingly enough, the frequency of the color blue is 6.66.
Maui Fires and Directed Energy Weapons
Brannon Howse Live Reports;
How Our Constitution Instructs Us to Respond to a Tyrannical Government
The Alex Jones Show Reports;
The Season of Assassination: These are the NWO's Top Targets
Macroaggressions Reports:
What would you call a company that does all of the things that the government is supposed to do but doesn't want to? What about a company that manages all of the British military bases around the world as well as the satellite communications, while still being in the business of picking up the trash, managing air traffic control stations, housing prisoners, and detaining immigrants? You would call this company Serco, and they have a dark history of corruption and incompetence.
For almost 100 years Serco has been the outsourcing arm of the British government specializing in government services, citizen services, the defense industry, transportation, healthcare, and facilities management. They generate $5 billion a year in revenue and have been busted for fraud, reneging on contracts, and other illegal business practices associated with everything imaginable, including the UK's disastrous "Track & Trace" program.
With the unhinged Left constantly screaming about defeating fascism all the time, one of the best examples of the blending of the Government with Big Business is sitting right in front of their eyes but they will never notice, even when they show up at their house once a week to take away their trash.
#364: The Most Dangerous Company You've Never Heard Of (Clip)
The New American:
Every gun control law is a red flag law. Anyone who would try to take your guns, well that's a red flag. Surprise, the usual communist suspects are trying to build a federal mental health registry to be used in conjunction with state red flag laws to strip the rights of current and formerly military personnel if they get a demerit for wearing a MAGA hat, or doubting election results, or something. And, Connecticut Senator Chris Murphy wants to sneak gun control legislation for military servicemen and women into the National Defense Authorization Act (NDAA.)
And this week's 2A For Today Modern Militiaman spotlight is on an armed husband and his very pregnant (and also armed) wife, who teamed up to defend themselves in a shootout against two would-be robbers. As a result, the couple and their child on the way weren't injured, nothing was stolen from them, and the only person shot was one of the robbers. I can't think of a better way to spice up a marriage than by taking out a bad guy.
Welcome to 2A For Today
For more great content, visit www.TheNewAmerican.com
A Federal Mental Health Registry to Strip Guns from Military Vets
Mike Adams Reports:
BBN, Aug 31, 2023 – Jon Voight is RIGHT, Trump goes to WAR…
FlashPoint Reports:
FlashPoint: COVID Again? No Fear Here! Dr. Peter McCullough (8/29/23)
American Center for Law and Justice Reports:
MUST WATCH: The ACLJ's Jay Sekulow and Jordan Sekulow were guest hosts for The Sean Hannity Show yesterday, and they welcomed a special guest to the national radio broadcast: former President Donald Trump. President Trump discussed several current issues, including his campaign for the White House; the never-ending Deep State witch hunt to remove him from the GOP presidential ballot; the election interference as a result of his political indictments; the investigations into alleged corruption involving President Joe Biden and Hunter Biden – and much more. Today's Sekulow broadcast offers an encore presentation of this exclusive Trump interview with Jay and Jordan, including their expert legal analysis of the Deep State's political schemes to railroad the former president.
President Trump Joins Jay and Jordan to Discuss "Biden Indictments"
And Now GOD has The Last Word as his Prophets Speak:
Hank Kunneman PROPHETIC WORD🚨 [MAJOR EVENT COMING BEFORE END OF 2023] Prophecy
LIVE WITH JULIE: A GREAT STORM IS COMING
Source Link: https://freeworldnews.tv/
Please Like and Share This Page. Thanks
AFFIRMATION GENERATION
MUST SEE DOCUMENTARY! SYNOPSIS:
"Detransitioners Michelle, Laura, Cat, David, Joel and Abel tell the stories of their gender distress, transgender medicalization, and subsequent detransition. Without diagnostic clarity or mental health evaluations, their doctors quickly affirmed them as "transgender," and mindlessly ushered them along the path of medical transition. (The "gender-affirming care" is the only treatment recommended by the American Academy of Pediatrics.) These young people were harmed irrevocably by the doctors they trusted. AFFIRMATION GENERATION demonstrates how the "one-size-fits-all" medicalization – the "gender-affirming care" – has failed these patients."
https://affirmationgenerationmovie.com/
Home School your Kids in a Christian Environment: https://zionacademy.com/
Learn hoe to be good citizen as the Bible tells us; https://biblicalcivics.com/flashpoint-offer-a
https://www.patriotacademy.com/
GET A VACCINE EXEMPTION LETTER: https://www.twc.health/products/medical-exemption?ref=2a-PHSIZGsDPj7
ATTENTION PARENTS: How to Opt Out of Rogue Sex Ed in Schools; https://www.greatschoolsinitiative.org/
SAVE NEXT NEWS NETWORK: https://www.paypal.com/donate?campaign_id=DFCYXRNRJUMDY
Support the Infowar! https://www.infowarsstore.com
shortcreekdreamcenter.org
https://thegatewaypunditstore.com/
https://store.100percentfedup.com/
https://brillouinenergy.com/
Support Natural News: https://www.healthrangerstore.com/
https://www.flytees.biz/
Support Ron Paul Institute: http://ronpaulinstitute.org/support/
https://wearechange.org/donate/
FOLLOW US!:
https://franksocial.com/u/RealNewsChannel
https://truthsocial.com/@realnewschannel1776
https://tv.gab.com/channel/RealNewsChannel
Think / Speak Freely on @CloutHub https://clouthub.com/c/RealNewsChannel
Think / Speak Freely on @CloutHub https://clouthub.com/RealNewsChannel1776
https://odysee.com/@RealNewsChannel.com:7
https://realnewschannel.locals.com/
https://t.me/Webmaster1776
https://freetalk.app/Webmaster1776
https://www.gettr.com/user/realnewschannel
https://puresocialnetwork.com/profile/?realnewschannel/
https://www.sovren.media/u/realnewschannel/
https://usa.life/RealNewsChannel
https://parler.com/profile/Realnewschannel/posts
https://gab.com/RealNewsChannel
https://brighteon.social/@webmaster1776
Join Us at Brighteon Social: https://brighteon.social/invite/mPR8uhxZ
https://www.facebook.com/Real-News-Channel-135410972687/
https://twitter.com/RealNewsChannel
https://mewe.com/i/joeayers4
https://myspace.com/realnewschannel1776
https://realnewschannel.tumblr.com/
https://www.reddit.com/user/webmaster1776
https://ugetube.com/@RealNewsChannel
https://www.bitchute.com/channel/vhoknDzQEHsJ/
https://rumble.com/c/c-403567
https://www.brighteon.com/channel/webmaster1776
https://www.instagram.com/realnewschannel/?hl=en
https://spreely.com/webmaster1776
https://www.minds.com/realnewschannel/
Copyright Disclaimer: Citation of articles and authors in this report does not imply ownership. Works and images presented here fall under Fair Use Section 107 and are used for commentary on globally significant newsworthy events. Under Section 107 of the Copyright Act 1976, allowance is made for fair use for purposes such as criticism, comment, news reporting, teaching, scholarship, and research.