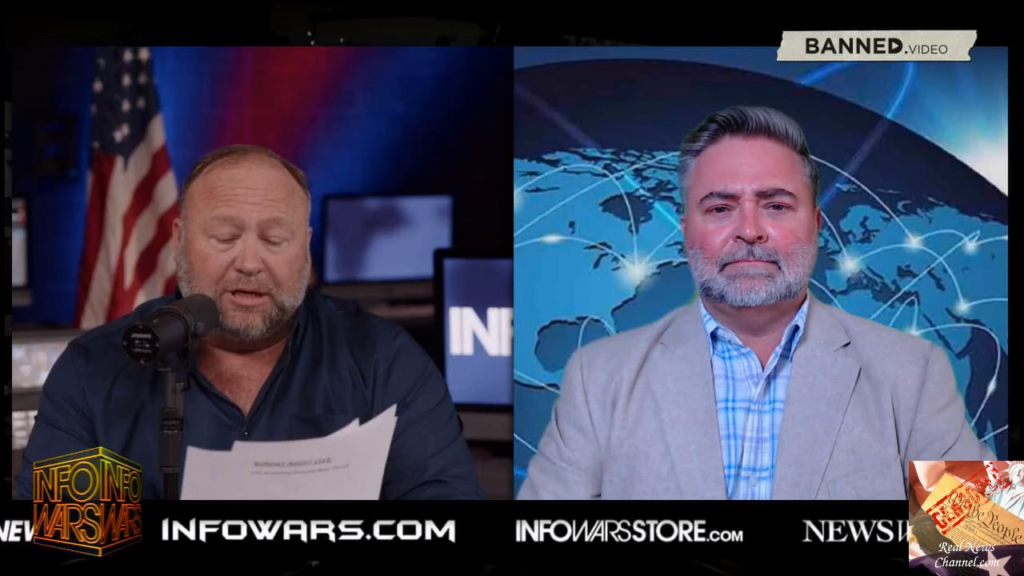 RealNewsChannel.com
first Scott Bennett, former military psyop operative, joins the show to discuss the dark implications behind the failed Wagner coup. You can find Scott and his work at www.globalfreedomtv.com. Then The psyop behind the projection pushing America into fragmentation is deliberate and financially backed by billionaires and managed by our own intelligence agencies.
The media fuels the projection. The Democrats practically legislate the projection. While a spoiled American generation of digital zombies consume the projection leading to a host of actions pushing the downfall of western civilization. Next The Pride Before the Fall,McCarthy and so muck more.
URGENT Message to YOU from General Michael Flynn
Joe Biden to Indian PM: "I Sold a Lot of State Secrets and a Lot of Very Important Things"
Pizza Party' Protest, Seattle's Pride, Juneteenth Wild'n Out on NewsBeat Interactive!
FlashPoint: Revealing What's Behind Their Agenda… (6/22/23)
Next from ACLJ;
After attempting to stage a coup in Russia over what it views as mistakes by President Vladimir Putin, the leader of the Wagner private military group, Yevgeny Prigozhin, has issued a new statement on why he has already ordered his forces to stop the mutiny.
The Wagner group is a known private mercenary army that has to date fought alongside the Russian military in Ukraine. While here in the U.S. we might think the idea of using mercenaries is unusual, in other countries such as Russia, it is very common. Some of Wagner's forces are currently working in Haiti, protecting its president from threats of assassination.
Despite Prigozhin's call for an end to the uprising, this was clearly the most serious challenge to Putin's iron grip on Russia. It certainly confirms that not all of Putin's people are behind him, especially after his invasion of Ukraine which has cost many Russian lives as well as the lives of Ukrainians and others.
Honestly, many people around the world would love to see Putin ousted. But something about this whole situation and Wagner's short-lived rebellion smells a bit fishy. This attempted coup – and now losing the assistance of Wagner in Ukraine – could prove to be the key for Putin to pull out of Ukraine. And in fact, a ACLJ Chief Counsel Jay Sekulow explained, despite many analysts saying this makes Putin look weak, the Russian leader may have been more directly involved in all of this than we currently realize:
"They're [Wagner] also a big military force and a sophisticated military force. The idea that this group got 120 miles basically from Moscow is breathtaking because the only reason that Russia is even able to fight in Ukraine right now is because of the Wagner troops. And these mercenaries, like you said – this is not a good guy. The fact that he's now in hiding or in exile in Belarus, let's be clear, Belarus is a Russian satellite. So none of this is happening without Putin saying this is okay. So there's something else in play. This may be, and there's a couple points to look at here, this may be a geopolitical implication . . . and that is this may be a way out of the Ukraine situation, because if he doesn't have the Wagner troops, Putin can't compete. And he now has a domestic problem and he can use that as a reason to get out. So who knows how much of this was orchestrated? Who knows how much of this was influenced also by what's going on in the Middle East right now?"
So did Prigozhin see himself as a modern Boris Yeltzin seeking to end the tyranny in Moscow and bring radical change to Russia, or was he just another pawn in Putin's chess game?
Today's full Sekulow broadcast includes more analysis of this weekend's chaotic events in Russia and what is likely to happen next. We're also joined by ACLJ Senior Advisor for National Security and Foreign Policy, and former U.S. Acting Director of National Intelligence, Ric Grenell.
The Power Struggle Within Russia's Military
And Finally GOD has The Last Word as his Prophets Speak;
Kent Christmas PROPHETIC WORD🚨[TERRIBLE EVENT COMING] DEATH ANGEL Urgent Prophecy June 25, 2023
VENGEANCE AND VINDICATION ARE COMING
Source Links:
https://freeworldnews.tv/watch?id=6494d369f64290b524690881
https://freeworldnews.tv/watch?id=6499d4c90b6e7bd9e2a78c9c
https://freeworldnews.tv/watch?id=649777310b6e7bd9e272499b
https://freeworldnews.tv/watch?id=649a1e1d0b6e7bd9e2ac9cf3
https://freeworldnews.tv/watch?id=649a25ae0b6e7bd9e2ae38be
https://freeworldnews.tv/watch?id=649a25ae0b6e7bd9e2ae38be
Please Like and Share This Page. Thanks
AFFIRMATION GENERATION
MUST SEE DOCUMENTARY! SYNOPSIS:
"Detransitioners Michelle, Laura, Cat, David, Joel and Abel tell the stories of their gender distress, transgender medicalization, and subsequent detransition. Without diagnostic clarity or mental health evaluations, their doctors quickly affirmed them as "transgender," and mindlessly ushered them along the path of medical transition. (The "gender-affirming care" is the only treatment recommended by the American Academy of Pediatrics.) These young people were harmed irrevocably by the doctors they trusted. AFFIRMATION GENERATION demonstrates how the "one-size-fits-all" medicalization – the "gender-affirming care" – has failed these patients."
https://affirmationgenerationmovie.com/
Home School your Kids in a Christian Environment: https://zionacademy.com/
Learn hoe to be good citisen as the Bible tells us; https://biblicalcivics.com/flashpoint-offer-a
https://www.patriotacademy.com/
GET A VACCINE EXEMPTION LETTER: https://www.twc.health/products/medical-exemption?ref=2a-PHSIZGsDPj7
ATTENTION PARENTS: How to Opt Out of Rogue Sex Ed in Schools; https://www.greatschoolsinitiative.org/
SAVE NEXT NEWS NETWORK: https://www.paypal.com/donate?campaign_id=DFCYXRNRJUMDY
Support the Infowar! https://www.infowarsstore.com
shortcreekdreamcenter.org
https://thegatewaypunditstore.com/
https://store.100percentfedup.com/
https://www.projectveritas.com/donate/
Support Natural News: https://www.healthrangerstore.com/
https://www.flytees.biz/
Support Ron Paul Institute: http://ronpaulinstitute.org/support/
https://wearechange.org/donate/
FOLLOW US!:
https://franksocial.com/u/RealNewsChannel
https://truthsocial.com/@realnewschannel1776
https://tv.gab.com/channel/RealNewsChannel
Think / Speak Freely on @CloutHub https://clouthub.com/c/RealNewsChannel
Think / Speak Freely on @CloutHub https://clouthub.com/RealNewsChannel1776
https://odysee.com/@RealNewsChannel.com:7
https://realnewschannel.locals.com/
https://t.me/Webmaster1776
https://freetalk.app/Webmaster1776
https://www.gettr.com/user/realnewschannel
https://puresocialnetwork.com/profile/?realnewschannel/
https://www.sovren.media/u/realnewschannel/
https://usa.life/RealNewsChannel
https://parler.com/profile/Realnewschannel/posts
https://gab.com/RealNewsChannel
https://brighteon.social/@webmaster1776
Join Us at Brighteon Social: https://brighteon.social/invite/mPR8uhxZ
https://www.facebook.com/Real-News-Channel-135410972687/
https://twitter.com/RealNewsChannel
https://mewe.com/i/joeayers4
https://myspace.com/realnewschannel1776
https://realnewschannel.tumblr.com/
https://www.reddit.com/user/webmaster1776
https://ugetube.com/@RealNewsChannel
https://www.bitchute.com/channel/vhoknDzQEHsJ/
https://rumble.com/c/c-403567
https://www.brighteon.com/channel/webmaster1776
https://www.instagram.com/realnewschannel/?hl=en
https://spreely.com/webmaster1776
https://www.minds.com/realnewschannel/
Copyright Disclaimer: Citation of articles and authors in this report does not imply ownership. Works and images presented here fall under Fair Use Section 107 and are used for commentary on globally significant newsworthy events. Under Section 107 of the Copyright Act 1976, allowance is made for fair use for purposes such as criticism, comment, news reporting, teaching, scholarship, and research.