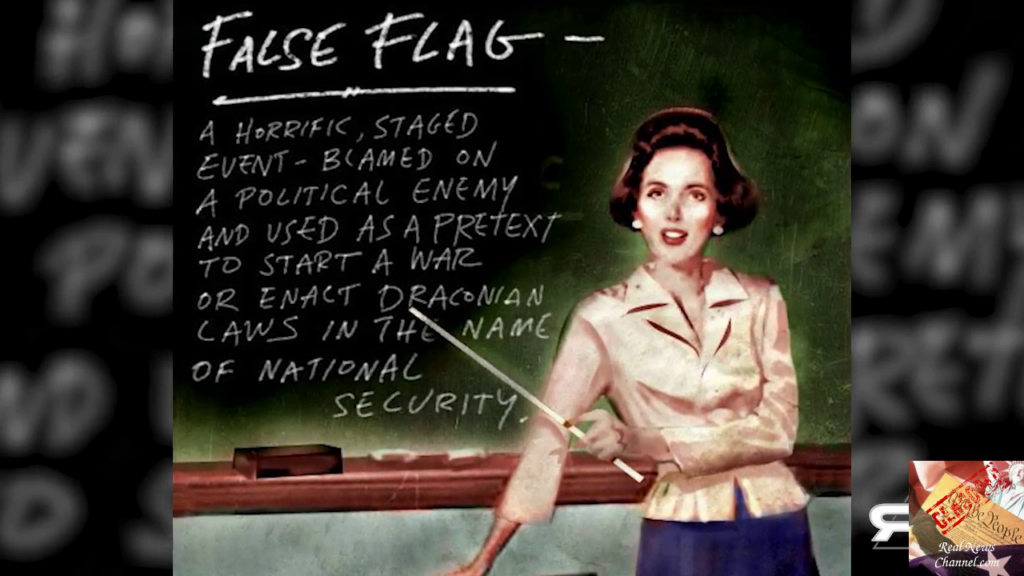 RealNewChannel.com
First If the powers that be can no longer trick us, then they will try and hurt us. Next Journalists Michael Yon of https://michaelyon.locals.com/ and Ann Vandersteel of https://rightnow.news/ join host Owen Shroyer on The Alex Jones Show to reveal their shocking invasion discoveries in the Darién Gap.
Extended Report!
Mike Adams reports;
Jeffrey Prather and Mike Adams talk Russia, Ukraine, "woke" military readiness, financial collapse and currency wars
The New American reports;
The commercial healthcare industry is heavily regulated by the government and has many serious flaws pertaining to medical costs and coverage. Christian health cost sharing has emerged as an alternative for Americans seeking a healthcare support system that is aligned with their beliefs and is devoid of governmental intervention, as it should be.
In this interview with The New American, Katy Talento, an Executive Director of the Alliance of Health Care Sharing Ministries, explains the differences between commercial insurance and Christian health cost sharing. Members and the leadership of Health Care Sharing Ministries work together to freely determine what type of medical expenses its members will share, which is practically anything but services that violate tenets of Christian faith, to include abortion, gender surgeries, and ailments that stem from criminal or immoral behavior. The voluntary adherence to Christian values in their lifestyles makes members of the dozens of ministries around the country much healthier than the general population, observed Ms. Talento. Yet emergencies do happen, and when members go to the doctor, hospital, or incur a medical cost, they submit the bill to their community through the ministry. Expenses that meet the ministry's guidelines are shared by the community, and payment is made to the family in need or directly to the doctor. The ministries share the cost of even the most expensive services and procedures, as well as catastrophic expenses and experimental treatments that most insurance companies would not cover.
The ministries go far beyond sharing medical bills by engaging in charitable initiatives and programs and supporting their members and non-members in difficult times of loss and hardship.
To learn more, please visit Save Christian Healthcare and the Alliance of Health Care Sharing Ministries.
Unrestriced | Blessings of Christian Health Care Sharing
The Ron Paul Liberty Report;
Sen. Rand Paul Says "No Way" To More Ukraine Aid … Vows To Block Any Fast-Track
And Now GOD has THE LAST WORD as his Prophets speak;
Hank Kunneman PROPHETIC WORD🚨 [BEFORE THE END OF 2023] SHOCKING PROPHECY
Robin Bullock PROPHETIC WORD🚨[THE SOUL OF A NATION] ONE CHOSEN BY GOD Prophecy Sept 12, 2023
LIVE WITH JULIE 09/21/2023
Source Link:
https://freeworldnews.tv/
Please Like and Share This Page. Thanks
AFFIRMATION GENERATION
MUST SEE DOCUMENTARY! SYNOPSIS:
"Detransitioners Michelle, Laura, Cat, David, Joel and Abel tell the stories of their gender distress, transgender medicalization, and subsequent detransition. Without diagnostic clarity or mental health evaluations, their doctors quickly affirmed them as "transgender," and mindlessly ushered them along the path of medical transition. (The "gender-affirming care" is the only treatment recommended by the American Academy of Pediatrics.) These young people were harmed irrevocably by the doctors they trusted. AFFIRMATION GENERATION demonstrates how the "one-size-fits-all" medicalization – the "gender-affirming care" – has failed these patients."
https://affirmationgenerationmovie.com/
Home School your Kids in a Christian Environment: https://zionacademy.com/
Learn hoe to be good citizen as the Bible tells us; https://biblicalcivics.com/flashpoint-offer-a
https://www.patriotacademy.com/
GET A VACCINE EXEMPTION LETTER: https://www.twc.health/products/medical-exemption?ref=2a-PHSIZGsDPj7
ATTENTION PARENTS: How to Opt Out of Rogue Sex Ed in Schools; https://www.greatschoolsinitiative.org/
SAVE NEXT NEWS NETWORK: https://www.paypal.com/donate?campaign_id=DFCYXRNRJUMDY
Support the Infowar! https://www.infowarsstore.com
shortcreekdreamcenter.org
https://thegatewaypunditstore.com/
https://store.100percentfedup.com/
https://brillouinenergy.com/
Support Natural News: https://www.healthrangerstore.com/
https://www.flytees.biz/
Support Ron Paul Institute: http://ronpaulinstitute.org/support/
https://wearechange.org/donate/
FOLLOW US!:
https://franksocial.com/u/RealNewsChannel
https://truthsocial.com/@realnewschannel1776
https://tv.gab.com/channel/RealNewsChannel
Think / Speak Freely on @CloutHub https://clouthub.com/c/RealNewsChannel
Think / Speak Freely on @CloutHub https://clouthub.com/RealNewsChannel1776
https://odysee.com/@RealNewsChannel.com:7
https://realnewschannel.locals.com/
https://t.me/Webmaster1776
https://freetalk.app/Webmaster1776
https://www.gettr.com/user/realnewschannel
https://puresocialnetwork.com/profile/?realnewschannel/
https://www.sovren.media/u/realnewschannel/
https://usa.life/RealNewsChannel
https://parler.com/profile/Realnewschannel/posts
https://gab.com/RealNewsChannel
https://brighteon.social/@webmaster1776
Join Us at Brighteon Social: https://brighteon.social/invite/mPR8uhxZ
https://www.facebook.com/Real-News-Channel-135410972687/
https://twitter.com/RealNewsChannel
https://mewe.com/i/joeayers4
https://myspace.com/realnewschannel1776
https://realnewschannel.tumblr.com/
https://www.reddit.com/user/webmaster1776
https://ugetube.com/@RealNewsChannel
https://www.bitchute.com/channel/vhoknDzQEHsJ/
https://rumble.com/c/c-403567
https://www.brighteon.com/channel/webmaster1776
https://www.instagram.com/realnewschannel/?hl=en
https://spreely.com/webmaster1776
https://www.minds.com/realnewschannel/
Copyright Disclaimer: Citation of articles and authors in this report does not imply ownership. Works and images presented here fall under Fair Use Section 107 and are used for commentary on globally significant newsworthy events. Under Section 107 of the Copyright Act 1976, allowance is made for fair use for purposes such as criticism, comment, news reporting, teaching, scholarship, and research.