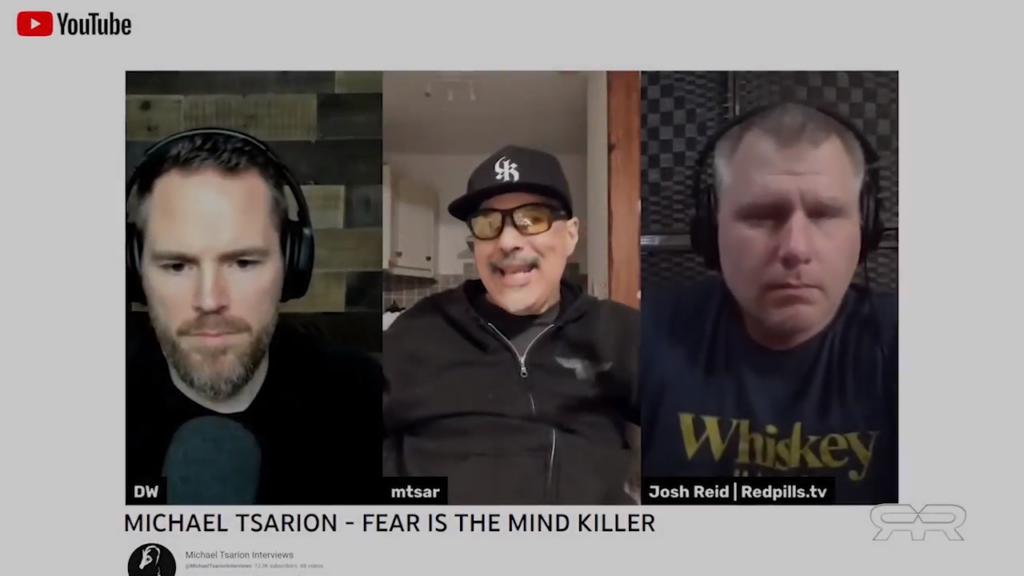 RealNewsChannel.com
The main character in Frank Herbert's Dune uses a mantra to overcome his fears:
"Fear is the mind-killer. Fear is the little-death that brings total obliteration. I will face my fear. I will permit it to pass over me and through me. And when it has gone past me I will turn to see fear's path. Where the fear has gone there will be nothing. Only I will remain."
And from the book of Psalms;
"Even though I walk through the valley of the shadow of death, I will fear no evil, for you are with me; your rod and your staff, they comfort me."
Fear is natural, but to dwell there only breeds despair. The power of our free will is most pertinent in the mind where we have sway over our thoughts, focus, and decisions.
Staying positive isn't just for restorative retreats on the beach. It's the solution to every problem we face.
Even under the highest stress, the military is trained to maintain Esprit de Corps at all levels. A common spirit of a group inspiring enthusiasm, devotion, and honor for that group.
Positive feelings prevail in every endeavor. Even in battle.
Artificial Intelligence seems to understand this as well. In Clif High's recent Shadow Wars…, A.I. program, Chat GPT, was prompted to help develop a story about a world that has been ruled for thousands of years by a non-human species that hides in the shadows and uses media, government, and education to brainwash the masses and control them with fear.
Chat GPT was asked:
What strategies and tactics could the awake humans employ to defeat the enemy and awaken humanity?
The A.I. program said that;
Ultimately, the key to unlocking the trapped minds of the normal humans will be to appeal to their innate desires for freedom, autonomy, truth, and transparency.
It recommended that the awake humans should expose the truth, mobilize the masses, and build alternative institutions that serve these values of individual freedom.
"Be strong and courageous! Do not be afraid and do not panic before them. For
the Lord your God will personally go ahead of you. He will neither fail you nor
abandon you." –Deuteronomy 31:6
From Alex Jones;
Tucker Carlson delivered a powerful speech over the weekend that warned how conventional politics was failing to address the anti-human policies being pushed by the establishment.
Tucker Carlson's Last Speech Before Fox Exit Raised Alarm Over Transgenderism, Abortion, Human Sacrifice & Called for PRAYER

Next Alex Jones breaks down a recent Tucker Carlson speech where he hits all the topics feared by satanic pedophile establishment.
The Ideas In This Tucker Speech Is What The Establishment Fears The Most
Next From The Alex Jones Show;
Dr. Ana Mihalcea of https://anamihalceamdphd.substack.com/ joins guest host Maria Zeee of https://zeeemedia.com/ on The Alex Jones Show to expose the transhuman agenda to digitize and surveil the global population.
Hijacking the Soul: Dr. Exposes the Transhuman Agenda to Digitize and Surveil the Population
Next From Pete Santilli;
MICHAEL BERRY – APATHY IS THE GREATEST THREAT TO FREEDOM
And Finally GOD has The Last Word as His Modern Prophets Speak!
Robin Bullock PROPHETIC WORD🚨[DIRE WARNING] URGENT Prophecy April 25, 2023
Kent Christmas PROPHETIC WORD🚨[COMING COLLAPSE] BEWARE Prophecy April 23, 2023
A BIBLICAL ECONOMIC RESET IS COMING
Here is Some Words of Encouragement From GODS WORD!
"Be strong and courageous! Do not be afraid and do not panic before them. For the Lord your God will personally go ahead of you. He will neither fail you nor abandon you." –Deuteronomy 31:6
"Don't be afraid, for I am with you. Don't be discouraged, for I am your God. I will strengthen you and help you. I will hold you up with my victorious right hand." – Isaiah 41:10
"For I, the Lord your God, will hold your right hand, saying to you, 'Fear not, I will help you.'" –Isaiah 41:13, NKJV
"The Lord is my light and my salvation—so why should I be afraid? The Lord is my fortress, protecting me from danger, so why should I tremble?" –Psalm 27:1
"Give your burdens to the Lord, and he will take care of you. He will not permit the godly to slip and fall." –Psalm 55:22
"The Lord is on my side; I will not fear. What can man do to me?" –Psalm 118:6, NKJV
"The fear of man brings a snare, but whoever trusts in the Lord shall be safe." – Proverbs 29:25, NKJV
"Do not be afraid; only believe." –Mark 5:36, NKJV
"Don't worry about anything; instead pray about everything." –Philippians 4:6
"For God has not given us a spirit of fear, but of power and of love and of a sound mind." –2 Timothy 1:7, NKJV
"There is no fear in love; but perfect love casts out fear, because fear involves torment. But he who fears has not been made perfect in love." –1 John 4:18, NKJV
"He laid His right hand on me, saying to me, 'Do not be afraid; I am the First and the Last.'" –Revelation 1:17, NKJV
Source Link:
https://freeworldnews.tv/watch?id=64490ca5e8e6717e5e6bd925
Please Like and Share This Page. Thanks
Home School your Kids in a Christian Environment: https://zionacademy.com/
Trump Responds To Joe Biden Starting War With Russia, Big Tech is Listening to Almost All Your Conversations https://2020electioncenter.com/watch?id=63e69b9e3527cd2ea2637355
This is why you need 4freedommobile First month of Digital Nomad for $9.99 Use coupon code:
"PrivateTalk2023" https://www.4freedommobile.com/
GET A VACCINE EXEMPTION LETTER: https://www.twc.health/products/medical-exemption?ref=2a-PHSIZGsDPj7
ATTENTION PARENTS: How to Opt Out of Rogue Sex Ed in Schools; https://www.greatschoolsinitiative.org/
SAVE NEXT NEWS NETWORK: https://www.paypal.com/donate?campaign_id=DFCYXRNRJUMDY
Support the Infowar! https://www.infowarsstore.com
shortcreekdreamcenter.org
https://thegatewaypunditstore.com/
https://store.100percentfedup.com/
https://www.projectveritas.com/donate/
Support Natural News: https://www.healthrangerstore.com/
https://www.flytees.biz/
Support Ron Paul Institute: http://ronpaulinstitute.org/support/
https://wearechange.org/donate/
FOLLOW US!:
https://franksocial.com/u/RealNewsChannel
https://truthsocial.com/@realnewschannel1776
https://tv.gab.com/channel/RealNewsChannel
Think / Speak Freely on @CloutHub https://clouthub.com/c/RealNewsChannel
Think / Speak Freely on @CloutHub https://clouthub.com/RealNewsChannel1776
https://odysee.com/@RealNewsChannel.com:7
https://realnewschannel.locals.com/
https://t.me/Webmaster1776
https://freetalk.app/Webmaster1776
https://www.gettr.com/user/realnewschannel
https://puresocialnetwork.com/profile/?realnewschannel/
https://www.sovren.media/u/realnewschannel/
https://usa.life/RealNewsChannel
https://parler.com/profile/Realnewschannel/posts
https://gab.com/RealNewsChannel
https://brighteon.social/@webmaster1776
Join Us at Brighteon Social: https://brighteon.social/invite/mPR8uhxZ
https://www.facebook.com/Real-News-Channel-135410972687/
https://twitter.com/RealNewsChannel
https://mewe.com/i/joeayers4
https://myspace.com/realnewschannel1776
https://realnewschannel.tumblr.com/
https://www.reddit.com/user/webmaster1776
https://ugetube.com/@RealNewsChannel
https://www.bitchute.com/channel/vhoknDzQEHsJ/
https://rumble.com/c/c-403567
https://www.brighteon.com/channel/webmaster1776
https://www.instagram.com/realnewschannel/?hl=en
https://spreely.com/page/RealNewsChannel
https://www.minds.com/realnewschannel/
Copyright Disclaimer: Citation of articles and authors in this report does not imply ownership. Works and images presented here fall under Fair Use Section 107 and are used for commentary on globally significant newsworthy events. Under Section 107 of the Copyright Act 1976, allowance is made for fair use for purposes such as criticism, comment, news reporting, teaching, scholarship, and research.