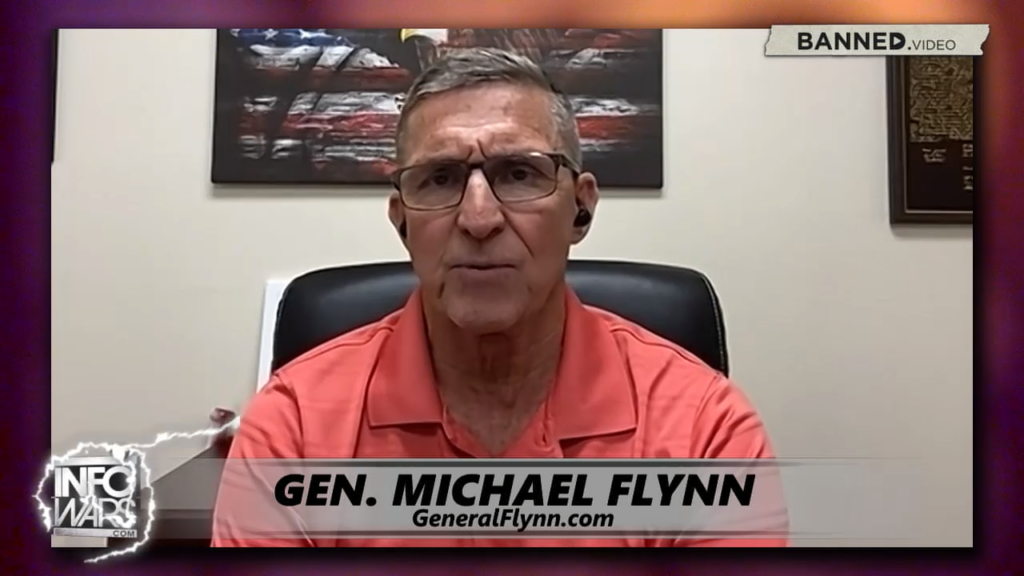 RealNewsChannel.com
General Michael Flynn joins Alex Jones live via Skype to issue a powerful rallying cry to American patriots who want to remove parasitic globalists from the United States government.
Extended Report:
Christians are fleeing godless and radicalized government schools by the millions, but now many states are working to use tax money to entice these families back into the system under the guise of "school choice" and vouchers, warns Exodus Mandate (www.exodusmandate.org) director Lt. Col. E. Ray Moore (Ret.) in this interview on Conversations That Matter with The New American magazine's Alex Newman. "When you reach for the money, the handcuffs go on," he added, saying tax money for homeschooling and Christians schools threatens the liberty and independence of both. Ray also addresses the objections of those supporting the vouchers, saying churches and private associations can fill the void.   
Christians Warned To NOT Take Gov't Funds for Homeschooling & Private School: Ray Moore
From: The New American:
Americans' constitutional freedoms and liberties have been taken for granted for too long. Now, when they are so viciously infringed on by the shadowy forces of the deep state and the globalist puppet masters, they need to be actively protected, believes conservative comedian JP Sears.
In this interview with The New American, JP discusses the role of humor and comedy in keeping people optimistic in dire times; the evolution of his political values, including his views on the Second Amendment; and his involvement in the medical freedom movement. JP observed that the forces of evil are waging psychological warfare against Americans, a part of whom unwittingly serves as their foot soldiers. The ultimate objective of this war is absolute control. In light of this, staying passive and idly expecting the storm to pass is not an option for American patriots. Luckily, the great awakening is well underway.
JP Sears: Act to Defend Freedom
From Darrin McBreen:
Don't Let Them Get Away With It! A powerful video montage chronicling the last three years of tyrannical COVID measures and vaccine mandates. Adapted from the poem by Margaret Anna Alice, read by UK-based medical doctor Dr. Tess Lawrie.
Anthem For Justice!
From Come andTake It:
Rep. Terry Wilson is keeping HB184 "Defend The Guard" from being heard in the Texas Lege. HB184 keeps our national guard being used in foreign wars.
DEFEND THE GUARD
From Press For Truth:
A Utah school district is considering banning students from reading the Bible after a complaint was made about the holy book containing 'inappropriate and pornographic' content.
Meanwhile drag queen story hour for kids is welcomed as progressive and inclusive while the very same schools push their transgender agenda on children.
Utah School District May Ban Students From Reading The BIBLE For Being "Inappropriate For Children"
From X22 Report:
The people around the world are fighting back, the criminal leaders are panicking. The banking system is ready to implode. The [CB] is now pushing everything they have to get everyone on the [CBDC], the people are pushing back and the momentum is building.
Ep. 3028a – [CBDC] Block Is Gaining Momentum, The Economic Crisis Will Bring It Home
And Now Some Words of Knowledge from GOD's Modern Prophets'
Robin Bullock PROPHETIC WORD 🚨[PLOT AGAINST 45 DISRUPTED] POWERFUL March 21, 2023 Eleventh Hour
REST IN GOD NO MATTER WHAT THINGS LOOK LIKE
Philippians 3:13-14
13 Brothers and sisters, I do not consider myself yet to have taken hold of it. But one thing I do: Forgetting what is behind and straining toward what is ahead,
14 I press on toward the goal to win the prize for which God has called me heavenward in Christ Jesus.
Source Link;
https://2020electioncenter.com/watch?id=641dfbe02841f35bbaee71da
If this video helps please Like and Share it. Thanks
Home School your Kids in a Christian Environment: https://zionacademy.com/
Trump Responds To Joe Biden Starting War With Russia, Big Tech is Listening to Almost All Your Conversations https://2020electioncenter.com/watch?id=63e69b9e3527cd2ea2637355
This is why you need 4freedommobile First month of Digital Nomad for $9.99 Use coupon code:
"PrivateTalk2023" https://www.4freedommobile.com/
GET A VACCINE EXEMPTION LETTER: https://www.twc.health/products/medical-exemption?ref=2a-PHSIZGsDPj7
ATTENTION PARENTS: How to Opt Out of Rogue Sex Ed in Schools; https://www.greatschoolsinitiative.org/
SAVE NEXT NEWS NETWORK: https://www.paypal.com/donate?campaign_id=DFCYXRNRJUMDY
Support the Infowar! https://www.infowarsstore.com
shortcreekdreamcenter.org
https://thegatewaypunditstore.com/
https://store.100percentfedup.com/
https://www.projectveritas.com/donate/
Support Natural News: https://www.healthrangerstore.com/
https://www.flytees.biz/
Support Ron Paul Institute: http://ronpaulinstitute.org/support/
https://wearechange.org/donate/
FOLLOW US!:
https://franksocial.com/u/RealNewsChannel
https://truthsocial.com/@realnewschannel1776
https://tv.gab.com/channel/RealNewsChannel
Think / Speak Freely on @CloutHub https://clouthub.com/c/RealNewsChannel
Think / Speak Freely on @CloutHub https://clouthub.com/RealNewsChannel1776
https://odysee.com/@RealNewsChannel.com:7
https://realnewschannel.locals.com/
https://t.me/Webmaster1776
https://freetalk.app/Webmaster1776
https://www.gettr.com/user/realnewschannel
https://puresocialnetwork.com/profile/?realnewschannel/
https://www.sovren.media/u/realnewschannel/
https://usa.life/RealNewsChannel
https://parler.com/profile/Realnewschannel/posts
https://gab.com/RealNewsChannel
https://brighteon.social/@webmaster1776
Join Us at Brighteon Social: https://brighteon.social/invite/mPR8uhxZ
https://www.facebook.com/Real-News-Channel-135410972687/
https://twitter.com/RealNewsChannel
https://mewe.com/i/joeayers4
https://myspace.com/realnewschannel1776
https://realnewschannel.tumblr.com/
https://www.reddit.com/user/webmaster1776
https://ugetube.com/@RealNewsChannel
https://www.bitchute.com/channel/vhoknDzQEHsJ/
https://rumble.com/c/c-403567
https://www.brighteon.com/channel/webmaster1776
https://www.instagram.com/realnewschannel/?hl=en
https://spreely.com/page/RealNewsChannel
https://www.minds.com/realnewschannel/
Copyright Disclaimer: Citation of articles and authors in this report does not imply ownership. Works and images presented here fall under Fair Use Section 107 and are used for commentary on globally significant newsworthy events. Under Section 107 of the Copyright Act 1976, allowance is made for fair use for purposes such as criticism, comment, news reporting, teaching, scholarship, and research.