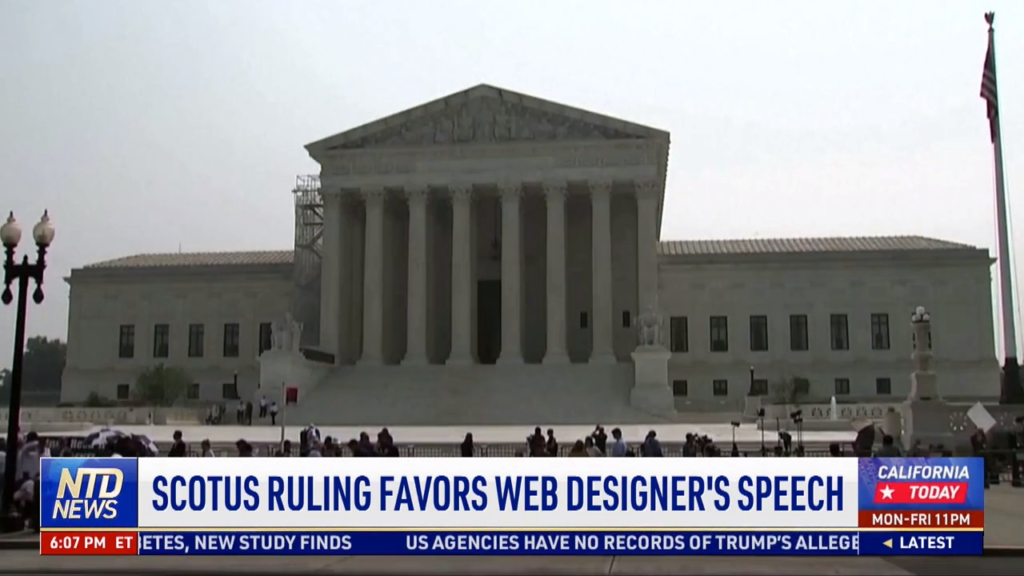 RealNewsChanel.com
Hug Supreme Rulings came down Today! LGBT Groomers Expose Themselves to Kids at Gay Pride Parade! Whistle Blowers Expose Corruption at Highest Levels of Government! And even more News in the Extended Report!
Extended Report:
Farmer Ross McKnight, owner of Backwater Foie Gras in Bush, Louisiana, has been targeted and had his business 'canceled' for posting his Catholic beliefs on Instagram in defiance of the LGBT agenda. McKnight recognizes that the strong and insidious pro-LGBT push to normalize transgender ideology and make June the month of so-called gay PRIDE is an attack on life and family—the foundational building blocks of society—and ultimately the Catholic faith itself. Watch now as LifeSiteNews Editor-in-Chief John-Henry Westen discusses with McKnight the pushback he has received, the opportunity to sacrifice for the Gospel of Life while confronting the LGBT agenda, and the need to reclaim the month of June for the Sacred Heart of Jesus.
5 Children & 1 Faith | Catholic Farmer Ross McKnight Defies LGBT Agenda
From Pete Santilli:
OUR FUTURE IS OUR CHILDREN! – MEL GIBSON URGES EVERYONE TO GO SEE SOUND OF FREEDOM
THEY ARE USING RFK JR AS A HEDGE TO STRIP VOTES FROM TRUMP
From Alex Jones:
On Sunday, investigative journalist and Clinton Cash author Peter Schweizer revealed that Hunter Biden had been paying for a secret global phone from AT&T to the tune of $300 per month.
Phone Call Proves Biden Under Communist Chinese Control
From NNN:
Welcome to "NewsBeat Interactive: 60 Minutes with Franchi", a dynamic live stream show that brings you in-depth coverage and analysis of the stories that matter most to the American people. Join our host, Gary Franchi, as he takes you on a captivating journey through the latest headlines and hot topics, engaging viewers in real-time discussions.
In this episode, we dive into the ongoing saga surrounding the Biden family, shedding light on the legal battles and controversies that have surrounded Hunter Biden. We examine the implications of secret settlements and the perplexing choices made in the name of protecting a young girl's privacy, leaving viewers questioning the transparency of those in power.
Our attention then turns to the Supreme Court, the ultimate arbiter of justice in our nation. We explore the recent threats faced by the court, uncovering the details of a suspicious package and its potential implications. As we delve into the Court's recent rulings on affirmative action, we examine the far-reaching effects on higher education and the ongoing debate surrounding meritocracy and equal opportunity.
The show also delves into the Bud Light controversy, where the endorsement of an influencer whose content targets children has ignited public outrage. We analyze the consequences of this ill-advised partnership, exploring the implications for responsible advertising and the moral obligations of major brands.
Furthermore, we shine a spotlight on the University of North Carolina's 'inclusive language guide', which has sparked a heated debate on freedom of speech and the preservation of cherished traditions. We discuss the impact of educational institutions dictating our vocabulary and shaping our thoughts, inviting viewers to reflect on the true meaning of inclusivity in our society.
Join us as we navigate through these crucial stories, providing context, analysis, and thought-provoking insights. Engage with fellow viewers in our live chat room, sharing your own perspectives and hot takes on the news briefs presented.
Don't miss out on this interactive and informative experience. Stay informed, empowered, and engaged with "NewsBeat Interactive: 60 Minutes with Franchi". For the complete stories and additional content, visit our website at http://NextNewsNetwork.com. We extend our gratitude to our sponsor, Noble Gold Investments, for their support. Plan your financial future wisely with Noble Gold Investments at http://NobleGoldInvestments.com.
Affirmative Action, Beer Missteps, Biden's Battle on NewsBeat Interactive!
From The Health Ranger:
BBN, June 30, 2023 – SCOTUS smacks down affirmative action BIGOTRY…
LIVE: President Trump in Pickens, SC
From American Center for Law and Justice:
The U.S. Supreme Court just issued two major rulings this morning. First, they struck down affirmative action, ruling that race must not be weighed into the admission process. Secondly, they ruled on a case the ACLJ made multiple filings in where the U.S. Postal Service denied one of its employees' right to attend church on Sunday. Jordan and the Sekulow team break down all the details on both Supreme Court decisions. This and more today on Sekulow.
And finally GOD has The Last Word as hid prophets Speak!
ROBIN BULLOCK PROPHETIC WORD🚨[BIDEN, WEF & ANTICHRIST] URGENT PROPHECY Jun 27, 2023
Prophecy Fulfilled: Smoke Over the Eastern USA
Source Links:
https://Banned.Video
https://RealNewsChannel.com
Please Like and Share This Page. Thanks
AFFIRMATION GENERATION
MUST SEE DOCUMENTARY! SYNOPSIS:
"Detransitioners Michelle, Laura, Cat, David, Joel and Abel tell the stories of their gender distress, transgender medicalization, and subsequent detransition. Without diagnostic clarity or mental health evaluations, their doctors quickly affirmed them as "transgender," and mindlessly ushered them along the path of medical transition. (The "gender-affirming care" is the only treatment recommended by the American Academy of Pediatrics.) These young people were harmed irrevocably by the doctors they trusted. AFFIRMATION GENERATION demonstrates how the "one-size-fits-all" medicalization – the "gender-affirming care" – has failed these patients."
https://affirmationgenerationmovie.com/
Home School your Kids in a Christian Environment: https://zionacademy.com/
Learn hoe to be good citisen as the Bible tells us; https://biblicalcivics.com/flashpoint-offer-a
https://www.patriotacademy.com/
GET A VACCINE EXEMPTION LETTER: https://www.twc.health/products/medical-exemption?ref=2a-PHSIZGsDPj7
ATTENTION PARENTS: How to Opt Out of Rogue Sex Ed in Schools; https://www.greatschoolsinitiative.org/
SAVE NEXT NEWS NETWORK: https://www.paypal.com/donate?campaign_id=DFCYXRNRJUMDY
Support the Infowar! https://www.infowarsstore.com
shortcreekdreamcenter.org
https://thegatewaypunditstore.com/
https://store.100percentfedup.com/
https://www.projectveritas.com/donate/
Support Natural News: https://www.healthrangerstore.com/
https://www.flytees.biz/
Support Ron Paul Institute: http://ronpaulinstitute.org/support/
https://wearechange.org/donate/
FOLLOW US!:
https://franksocial.com/u/RealNewsChannel
https://truthsocial.com/@realnewschannel1776
https://tv.gab.com/channel/RealNewsChannel
Think / Speak Freely on @CloutHub https://clouthub.com/c/RealNewsChannel
Think / Speak Freely on @CloutHub https://clouthub.com/RealNewsChannel1776
https://odysee.com/@RealNewsChannel.com:7
https://realnewschannel.locals.com/
https://t.me/Webmaster1776
https://freetalk.app/Webmaster1776
https://www.gettr.com/user/realnewschannel
https://puresocialnetwork.com/profile/?realnewschannel/
https://www.sovren.media/u/realnewschannel/
https://usa.life/RealNewsChannel
https://parler.com/profile/Realnewschannel/posts
https://gab.com/RealNewsChannel
https://brighteon.social/@webmaster1776
Join Us at Brighteon Social: https://brighteon.social/invite/mPR8uhxZ
https://www.facebook.com/Real-News-Channel-135410972687/
https://twitter.com/RealNewsChannel
https://mewe.com/i/joeayers4
https://myspace.com/realnewschannel1776
https://realnewschannel.tumblr.com/
https://www.reddit.com/user/webmaster1776
https://ugetube.com/@RealNewsChannel
https://www.bitchute.com/channel/vhoknDzQEHsJ/
https://rumble.com/c/c-403567
https://www.brighteon.com/channel/webmaster1776
https://www.instagram.com/realnewschannel/?hl=en
https://spreely.com/webmaster1776
https://www.minds.com/realnewschannel/
Copyright Disclaimer: Citation of articles and authors in this report does not imply ownership. Works and images presented here fall under Fair Use Section 107 and are used for commentary on globally significant newsworthy events. Under Section 107 of the Copyright Act 1976, allowance is made for fair use for purposes such as criticism, comment, news reporting, teaching, scholarship, and research.