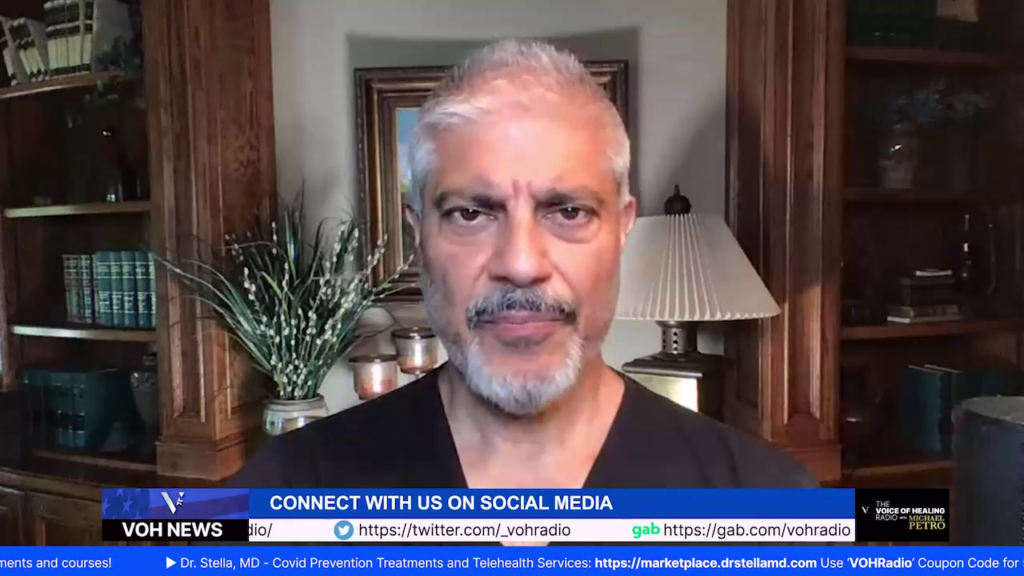 RealNewsChannel.com
Did You Get the COVID Death Jab and now regretting it?
Well there may now be a solution.
As reported by The Voice of Healing Radio with Michael Petro;
"Dr. Rashid shares about an upcoming release of an effective antidote to vaccine injections, monkeypox, messenger RNA gene editing, snake venom and more!"
About Dr. Rashid Buttar;
Dr. Rashid Buttar is a physician, the Medical Director for the Centers for Advanced Medicine, and highly censored by Big Tech.
Buttar had millions of followers on YouTube, Facebook, Instagram, and Twitter, but Big Tech removed his platforms because they didn't follow Facebook's "Community Standards." Buttar spoke about published medical literature, scientific information that has been peer reviewed. Buttar has been a physician for thirty years with patients in 94 different countries. He has conducted over 750 professional medial lectures all over the world.
Why is his voice being silenced? Why is he being removed on all major social media platforms?
Dr. Buttar serves as the Medical Director for the Centers for Advanced Medicine. The Centers are located in NC, TX, and CA, specializing in the treatment and needs of patients refractory to conventional treatments who have failed the standard approach to their disease process.
Dr. Buttar's first book, "The 9 Steps to Keep the Doctor Away" released in 2010 became a Wall Street Journal, USA Today and Amazon.com best seller and has since become an international best seller now translated into multiple languages.
TV Features such as Fox New, NBC, CBS, ABC 2020, ESPN, The Wall Street Journal and more!
Dr. Rashid Buttar 4th Annual Advanced Medicine Conference DVD Series: https://advancedmedicineconference.com
Source: https://2020electioncenter.com/watch?id=62ae1f6ae80dab2bf0a7308d
Why this so Important!
Scientists Confirm COVID Vaccines Contain Nanostructures Colonizing In The Human Body
2- Dr. Rashid Buttar | Future Vaccine Antidote Coming Soon 🙏 pic.twitter.com/MH5vnmETrp

— Hans Vladamier (@HVladamier) June 18, 2022
I will watch for the release of the medical conference that the doctor spoke of if they allow syndication, I'll create a web page for it and share it with you. In the mean time I'll keep an eye out for any additional information on the good Doctors Solution.