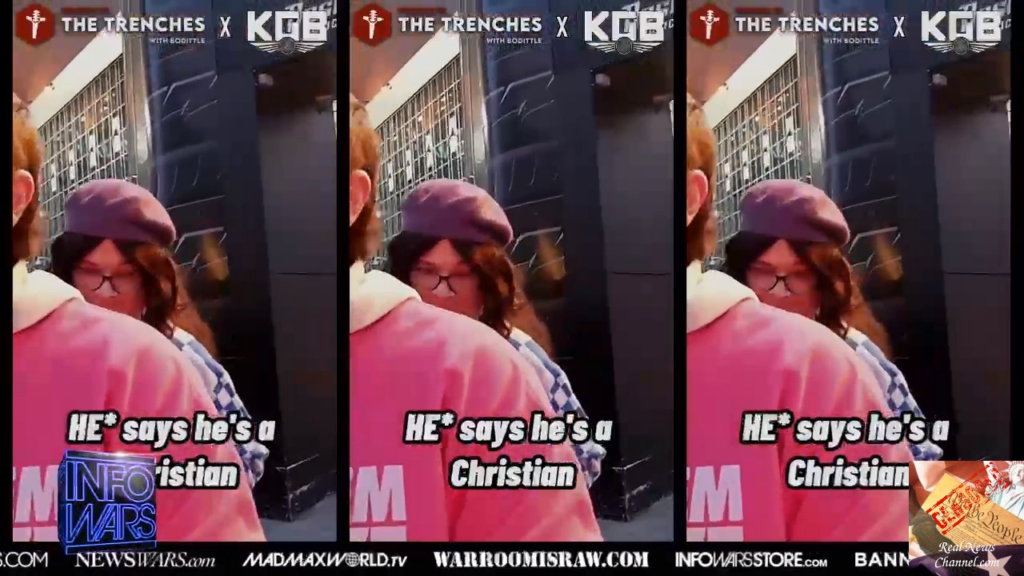 Extended Report!
From Flyover Conservatives:
Parasites, Pedophiles, Presidents… Biden's Days are Numbered! – Dr. Jason Dean
This is the GOOD News You Need to Hear! – Joe Hoft
"We will NOT Make it to the 2024 Elections"… WHY? – Clay Clark; A World Without Cancer – John Richardson
Raw Egg Nationalist, Esteemed author and bodybuilder, joins Harrison Smith to discuss the latest in man-made horrors beyond our comprehension: "Lab-grown" meat. You can find Raw Egg Nationalist and his work on his twitter account, @Babygravy9.
Central Banker At WEF Says CBDCs Will Be Used To Track And Control Your Every Movement
From Pete Santilli:
Matt Osborne holds the distinguished position of With a deep commitment to fighting against human trafficking and child exploitation, Matt has dedicated his career to bringing hope and freedom to those victimized.**
As the President and Chief Operating Officer of OUR, Matt leads a dedicated team of individuals working tirelessly to combat these heinous crimes. His strategic vision and hands-on approach have played a crucial role in the organization's success in rescuing and rehabilitating countless survivors of sex trafficking.
What Type Of Person Purchases An Infant For Sex?!
From Man in America:
The Hidden Trans Agenda Conservative Media Won't Talk About — Lily Tang Williams Interview
From The New American:
The MidWest Coalition to Protect Private Property Rights is hosting a rally to expose the hazardous carbon capture pipelines planned throughout the nation's Corn Belt. On Saturday, July 8 from 10 a.m. until 3 p.m., Great Plains farmers and landowners will rally in Fort Dodge, Iowa, to protest the use of eminent domain by for-profit companies who plan to install thousands of miles of this dangerous pipeline. They are backed by billions of taxpayer dollars, courtesy of the Biden Administration.
Speakers at the event are Congressman Steve King, national radio host Trent Loos, Iowa state representative Mark Thompson, and various attorneys, landowners and farmers. The New American is live-streaming the event.
Rally to Defend Private Property Rights Against Biden-backed Carbon Capture
From The John Birch Society:
Years ago, people went to school to learn the "Three R's", Reading, Writing and Arithmetic. Today, major cities are reporting that reading scores are dropping. This is a major problem as we need educated Americans to support our country and become leaders.
Take Action:
1.) Like and Share this video with others.
2.) Apply for Membership with The John Birch Society and get involved. https://jbs.org/join/
3.) Learn more about our school, Freedom Project Academy. https://fpeusa.org/
4.) Find books to read at ShopJBS.org. https://shopjbs.org/
Fixing the Literacy Crisis | Activate America
From The Gateway Pundit:
CramerSez Exposes the Most Dangerous Thing Happening in Our Country This Week
From Next News Network:
The Department of Defense's recent praise of a transgender Army Major has sparked controversy. Critics argue that celebrating a lifestyle choice undermines the merit-based promotion system of our military. They believe the focus should be on readiness and ensuring our forces are equipped for any challenge. Data from the RAND corporation suggests that the military's transgender policy hampers effectiveness. Concerns are raised about political correctness taking precedence over common sense and national security. The military should prioritize the safety and security of the nation above all else. Praising an individual based on gender identity rather than abilities undermines the meritocracy that should prevail in our armed forces. It is unfortunate that the Department of Defense has chosen to endorse a lifestyle that is seen by many as divisive and detrimental to morale and performance.
Controversy Erupts as DoD Praises Transgender Army Major | A Threat to Military Readiness?
From The ACLJ:
Environmental concerns like pollution are more important than the lives and safety of American military personnel. At least that's what the Biden Administration believes, according to shocking new recently declassified documents the ACLJ just uncovered.
We knew that President Joe Biden completely botched the withdrawal of U.S. military forces from Afghanistan, needlessly costing the lives of 13 service members, not to mention Afghan allies, civilians, and countless Christians.
But you won't believe what our Freedom of Information Act (FOIA) lawsuit just revealed – President Biden was more worried about Afghanistan's environment than he was about the lives of American soldiers, and as Commander in Chief, that is not only completely unacceptable but also offensive. Biden needs to be held accountable, which is why we filed our FOIA in the first place.
According to one of the over 200 pages of documents we've just received two years after filing our demand, the focus wasn't on how we would get our soldiers out of Afghanistan. It wasn't about protecting Afghani interpreters and other civilians who allied themselves with the United States. The Biden Administration was more concerned about the environmental cleanup of Bagram Air Base.
The document, which is marked as "CLASSIFIED," actually states: "Hazardous waste must be disposed of before the U.S. forces leave Afghanistan." Hazardous waste is bad, but ISIS killing 13 soldiers will always be worse. And that's on President Biden now for kowtowing to the will of the Left's Green New Deal.
And we have no problem with trying to maintain the airport. But while cleaning up environmental concerns was clearly top of mind for the Biden Administration, there's no mention even of the military equipment and weapons that were left behind in Biden's hasty withdrawal – which now reside in the hands of the Taliban – let alone protecting human lives.
What's really sad here is that back in 2021, we chalked up Biden's disastrous withdrawal to simply being ill-prepared and not putting enough thought and care into making a plan. Now we see that, no, there was, in fact, a Biden plan – it just didn't place protecting the lives of our troops as its first priority. It's no wonder the Biden Administration took two years to respond to our FOIA. They didn't want the world to know they did have a plan, but it was an incompetent plan that went sideways and ended up costing more lives.
Every American should be angry today. Brave soldiers were killed because President Biden and his advisers didn't protect them. And deadly military equipment was just left behind for terrorists.
Today's full Sekulow broadcast includes more analysis of the incendiary documents we've just received in response to our FOIA against the Biden Administration. We're also joined by ACLJ Senior Advisor for National Security and Foreign Policy and former Acting Director of National Intelligence Ric Grenell with an update on negotiations between Ukraine and Russian officials, as well as his reaction to our latest revelation about the Afghanistan withdrawal.
MASSIVE Biden CLASSIFIED Documents Dump
And Finally GOD has The Last Word as his Prophets Speak!
Hank Kunneman PROPHETIC WORD🚨[THE SIGN] GOD IS NOT THROUGH July 4, 2023
THE WINDS OF CHANGE ARE BLOWING
Source Link:
https://freeworldnews.tv/
Please Like and Share This Page. Thanks
AFFIRMATION GENERATION
MUST SEE DOCUMENTARY! SYNOPSIS:
"Detransitioners Michelle, Laura, Cat, David, Joel and Abel tell the stories of their gender distress, transgender medicalization, and subsequent detransition. Without diagnostic clarity or mental health evaluations, their doctors quickly affirmed them as "transgender," and mindlessly ushered them along the path of medical transition. (The "gender-affirming care" is the only treatment recommended by the American Academy of Pediatrics.) These young people were harmed irrevocably by the doctors they trusted. AFFIRMATION GENERATION demonstrates how the "one-size-fits-all" medicalization – the "gender-affirming care" – has failed these patients."
https://affirmationgenerationmovie.com/
Home School your Kids in a Christian Environment: https://zionacademy.com/
Learn hoe to be good citisen as the Bible tells us; https://biblicalcivics.com/flashpoint-offer-a
https://www.patriotacademy.com/
GET A VACCINE EXEMPTION LETTER: https://www.twc.health/products/medical-exemption?ref=2a-PHSIZGsDPj7
ATTENTION PARENTS: How to Opt Out of Rogue Sex Ed in Schools; https://www.greatschoolsinitiative.org/
SAVE NEXT NEWS NETWORK: https://www.paypal.com/donate?campaign_id=DFCYXRNRJUMDY
Support the Infowar! https://www.infowarsstore.com
shortcreekdreamcenter.org
https://thegatewaypunditstore.com/
https://store.100percentfedup.com/
https://www.projectveritas.com/donate/
Support Natural News: https://www.healthrangerstore.com/
https://www.flytees.biz/
Support Ron Paul Institute: http://ronpaulinstitute.org/support/
https://wearechange.org/donate/
FOLLOW US!:
https://franksocial.com/u/RealNewsChannel
https://truthsocial.com/@realnewschannel1776
https://tv.gab.com/channel/RealNewsChannel
Think / Speak Freely on @CloutHub https://clouthub.com/c/RealNewsChannel
Think / Speak Freely on @CloutHub https://clouthub.com/RealNewsChannel1776
https://odysee.com/@RealNewsChannel.com:7
https://realnewschannel.locals.com/
https://t.me/Webmaster1776
https://freetalk.app/Webmaster1776
https://www.gettr.com/user/realnewschannel
https://puresocialnetwork.com/profile/?realnewschannel/
https://www.sovren.media/u/realnewschannel/
https://usa.life/RealNewsChannel
https://parler.com/profile/Realnewschannel/posts
https://gab.com/RealNewsChannel
https://brighteon.social/@webmaster1776
Join Us at Brighteon Social: https://brighteon.social/invite/mPR8uhxZ
https://www.facebook.com/Real-News-Channel-135410972687/
https://twitter.com/RealNewsChannel
https://mewe.com/i/joeayers4
https://myspace.com/realnewschannel1776
https://realnewschannel.tumblr.com/
https://www.reddit.com/user/webmaster1776
https://ugetube.com/@RealNewsChannel
https://www.bitchute.com/channel/vhoknDzQEHsJ/
https://rumble.com/c/c-403567
https://www.brighteon.com/channel/webmaster1776
https://www.instagram.com/realnewschannel/?hl=en
https://spreely.com/webmaster1776
https://www.minds.com/realnewschannel/
Copyright Disclaimer: Citation of articles and authors in this report does not imply ownership. Works and images presented here fall under Fair Use Section 107 and are used for commentary on globally significant newsworthy events. Under Section 107 of the Copyright Act 1976, allowance is made for fair use for purposes such as criticism, comment, news reporting, teaching, scholarship, and research.