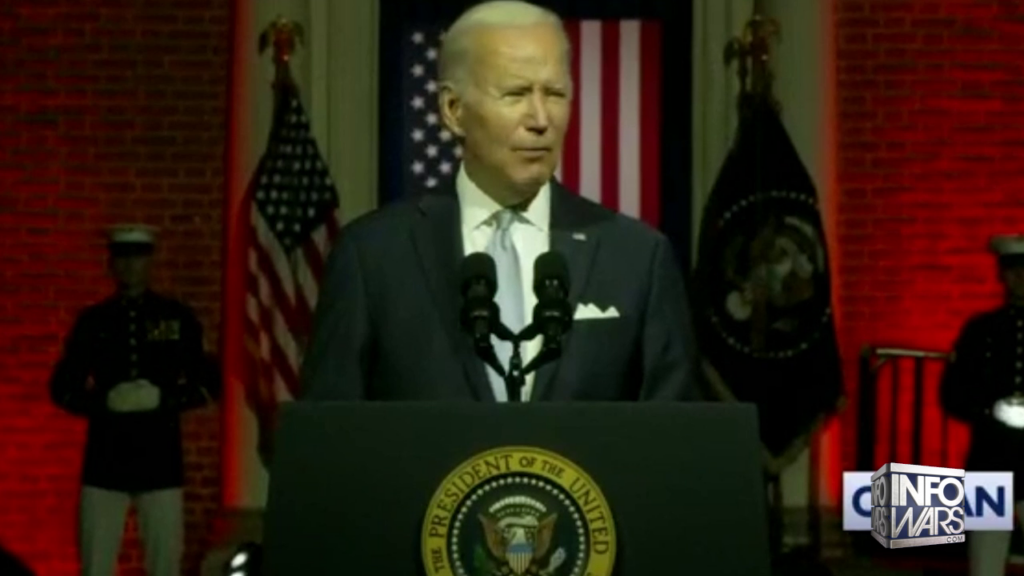 RealNewsChannel.com
Alex Jones Predicts Leftist False Flag Ops Targeting Trump to Derail Reelection Campaign and its not exactly surprising. Just days ago Beijing Biden declared war on and any American that does not support him. Even some of his own Democrats cant believe what they heard.
Here is a Report from Infowars Jon Bowne on Bidens Address;
As a result of this Address there has been a huge backlash. Here are some of the Internets Best Responses.
More Responses
President Biden is the American Nero.

Last night's speech was a truly despicable spectacle.

If you dissent from his agenda he considers you a "threat to democracy." pic.twitter.com/1F4F8XEtxL

— Ron DeSantis (@RonDeSantisFL) September 3, 2022
Biden's speech last night was chilling.

First they said we were "extremists," then they called us "deplorable," and now we're "semi-fascists?"

It's unthinkable that a president would speak about half of Americans that way. pic.twitter.com/Q5VEGKmfcZ

— Nikki Haley (@NikkiHaley) September 2, 2022
That was the most demagogic, outrageous, and divisive speech I have ever seen from an American president. Joe Biden essentially declared all those who oppose him and his agenda enemies of the republic. Truly shameful. pic.twitter.com/ZcJX2BbZlt

— Ben Shapiro (@benshapiro) September 2, 2022
The terrible divisive speech Biden gave last night was not for no reason.

You can bet there's going to be some major dangerous political escalations from here by the administration that the speech tried to lay the groundwork for! pic.twitter.com/wi7Wavt9I4

— Luke Rudkowski (@Lukewearechange) September 2, 2022
So after seeing of this and considering the upcoming Mid-terms which Dems are slated to loose assuming a fair election. Biden is desperate! He needs to paint Conservative Trump supporters as Bad to distract the voters. And this will backfire on him! Conservatives are peaceful and smart enough not to fall for this and do something stupid. Here is the problem. As Alex will point out in the next report, If he wants an attack to blame on conservatives bad enough, he just might "manufacture" one by creating a "False Flag " event. A false flag operation is an act committed with the intent of disguising the actual source of responsibility and pinning blame on another party. And now Alex's Report;
Source Link:
https://freeworldnews.tv/watch?id=630d2e9544b2553241f7af3c
Want a Real Private Phone with no tracking? Go Here: https://www.voltawireless.com/ DISCOUNT CODE: Privacy2022
Support the Infowar! https://www.infowarsstore.com
https://thegatewaypunditstore.com/
https://store.100percentfedup.com/
https://www.projectveritas.com/donate/
Support Natural News: https://www.healthrangerstore.com/
https://www.flytees.biz/
Support Ron Paul Institute: http://ronpaulinstitute.org/support/
https://wearechange.org/donate/
FOLLOW US!:
https://truthsocial.com/@realnewschannel1776
Think / Speak Freely on @CloutHub https://clouthub.com/c/RealNewsChannel
Think / Speak Freely on @CloutHub https://clouthub.com/RealNewsChannel1776
https://odysee.com/@RealNewsChannel.com:7
https://realnewschannel.locals.com/
https://t.me/Webmaster1776
https://freetalk.app/Webmaster1776
https://www.gettr.com/user/realnewschannel
https://puresocialnetwork.com/profile/?realnewschannel/
https://www.sovren.media/u/realnewschannel/
https://usa.life/RealNewsChannel
https://parler.com/profile/Realnewschannel/posts
https://gab.com/RealNewsChannel
https://brighteon.social/@webmaster1776
Join Us at Brighteon Social: https://brighteon.social/invite/mPR8uhxZ
https://www.facebook.com/Real-News-Channel-135410972687/
https://twitter.com/RealNewsChannel
https://mewe.com/i/joeayers4
https://myspace.com/realnewschannel1776
https://realnewschannel.tumblr.com/
https://www.reddit.com/user/webmaster1776
https://ugetube.com/@RealNewsChannel
https://www.bitchute.com/channel/vhoknDzQEHsJ/
https://rumble.com/c/c-403567
https://www.brighteon.com/channel/webmaster1776
https://www.instagram.com/realnewschannel/?hl=en
https://spreely.com/page/RealNewsChannel
https://www.minds.com/realnewschannel/
Copyright Disclaimer: Citation of articles and authors in this report does not imply ownership. Works and images presented here fall under Fair Use Section 107 and are used for commentary on globally significant newsworthy events. Under Section 107 of the Copyright Act 1976, allowance is made for fair use for purposes such as criticism, comment, news reporting, teaching, scholarship, and research.
The Principles of Liberty for Kids: https://bit.ly/teach-liberty